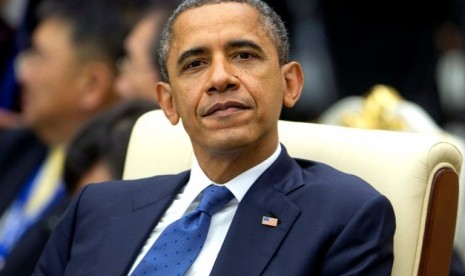 BERITA TERKINI, WASHINGTON -- Presiden Amerika Serikat (AS) Barack Obama berjanji membangun persekutuan kuat di seluruh dunia. Presiden Afro Amerika ini juga mengatakan AS bertekad menciptakan keamanan tanpa perang yang tanpa henti.
"Amerika akan tetap menjadi jangkar persekutuan kuat di setiap sudut dunia. Kita, rakyat, masih percaya bahwa mempertahankan keamanan dan perdamaian abadi tidak memerlukan perang tanpa henti," kata Obama di tangga Gedung Capitol Hill, Washington DC, AS dalam pidato pelantikan masa jabatan kedua, Selasa (22/1) dinihari WIB.
Obama juga berjanji AS akan mendukung demokrasi di seluruh dunia, mulai dari Asia, Afrika, Amerika hingga Timur Tengah. Termasuk membuka diri bagi kalangan imigran dan kaum sesama jenis (gay dan lesbian).
"Dan kita harus menjadi sumber harapan bagi kaum miskin, kaum yang menderita, kaum terpinggirkan, dan korban prasangka. Bukan hanya untuk amal, namun karena perdamaian atas prinsip yang digambarkan keyakinan bersama, toleransi, martabat manusia dan keadilan," papar Obama.
Acara pelantikan Obama sebagai Presiden AS dan Joe Biden sebagai Wakil Presiden AS mendapat sambutan hangat dari warga setempat meski musim dingin masih menyelimuti Washington DC. Para pendukung Obama dan Biden mengelukan kedua pasangan tersebut sambil mengibarkan bendera AS.
Kali ini Obama terlihat lancar mengucapkan sumpah jabatannya di depan sang istri, Michelle Obama dan kedua putri tercintanya, serta keluarga besarnya. Empat tahun lalu, sumpah jabatan Obama diambil dua kali karena pelantikan salah ucap.
Adapun tema resmi pelantikan masa jabatan kedua Presiden Obama dan Wakil Presiden Biden kali ini adalah "Our people–Our future" atau "Rakyat kita–Masa depan kita".
Sumber : Republika.online
"
Visit
our
new
website
which is
no less exciting
and
more
of
this
.
At
a specially
created
to
discuss
secret
seo
tricks
tutorial
the
webmasters
who
create a
blog
/
website
you
climbed
up
in the eyes of
search engines
"
www.trikseo.net